Glassblowing, traditional
Traditional glassblowing, with pipe and glory hole, is something that ranks high on many a wish list.
It is something that many people have always wanted to do – and we offer you the chance! We'll start with solid objects such as a sphere, for instance, but you're also invited to craft your own designs or abstract shapes. As soon as you have trained your skills and feel more comfortable with the materials, you will have the opportunity to try your hand at blowing a hollow sphere. You will certainly be able to create two objects in a single afternoon session, but with a bit of luck (and skill), you may even be able to produce three objects.
For maximum safety and because we wish to give participants all the attention they need, we offer this seminar exclusively in the form of private lessons. Dates are set after consultation, and in view of the time needed to heat the furnace, this particular seminar can only be held during afternoons (weekdays and Saturdays). The following rates apply: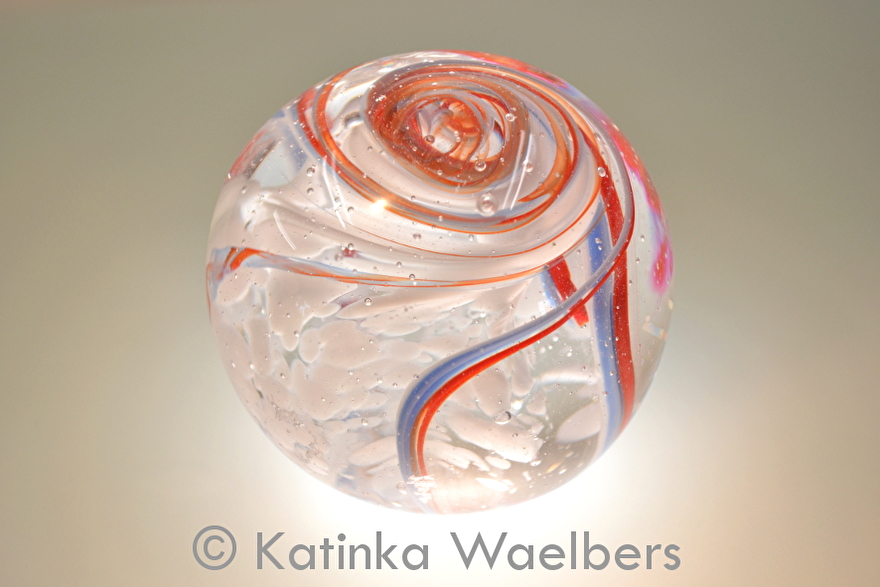 For one participant we ask 200 euros for one afternoon, two participants pay 175 euros each for one afternoon, and three participants pay 150 euros each for one afternoon .
If you require further information, a quotation for a personal project or if you wish to attend a seminar, send us an e-mail at info@glass-and-art.nl – we hope to see you soon!
Ravenstein, famous for its Museum for Glass and Enamel Arts, lies between the cities of Nijmegen and Den Bosch, near the A50 motorway. Ravenstein's railway station lies at walking distance from the Glass &Art studio (a five-minute walk). Trains to and from Nijmegen and Den Bosch leave and arrive every thirty minutes.